Mini Tape in Hair Extensions Micro Interface Tape Machine Remy 100% Human Hair Extensions 3x0.8 cm Adhesive Invisible
stars, based on
17
reviews
Price:
$14.00 $22.00 piece
Color

Middle Brown 06
Dark Brown 04
P6-613
P4-27
P18-60
Jet Black 01
Natural Black 1B
Darkest Brown 02
Platinum Blonde 60
Stretched Length

12 inch 30cm 1.25g
16inch 40cm 1.5g
20 inch 50cm 2g
24inch 60cm 2.5g
Items per Package

10 PCS
20 PCS
40 PCS Full Head
80 PCS Full Head
Item specifics
Brand Name:

Goldenwigs
Texture:

Straight
Material Grade:

Non-remy Hair
Unit Weight:

1.5g/Strand
Origin:

CN(Origin)
Can Be Permed:

Yes
Ships From:

CN
Color Type:

Pure Color
Human Hair Type:

Brazilian Hair
Suitable Dying Colors:

Darker Color Only
Type:

Mini Tape in hair, Micro Tip Tape ins
Material:

100% Human hair, Tape In human hair extensions, tape in hair
Interface Size:

1x0.8cm after installed
Description
Product Description
Mini Tape Hair Extensions Invisible Natural Straight Non-remy Tape in Hair Extensions Double Side Adhesive Skin Weft
Tape Size
3cm Wide x 0.8cm High & Strong Double Sided Skin Weft Adhesive
Interface Size:
Mini Interface 1x 0.8cm after installed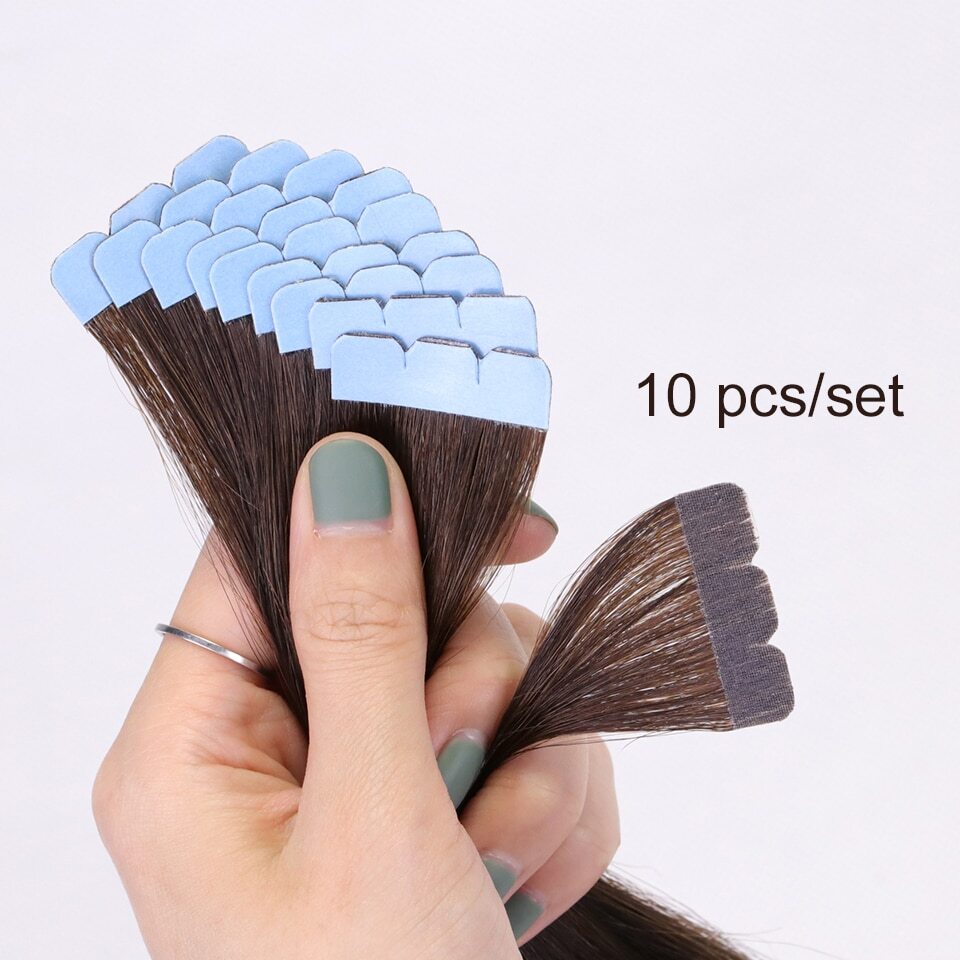 Why do you need to try Mini Tip Tape in?
1. Tiny Interface. 3 Tips Tape size is 3x0.8cm. After installment, each interface is super tiny and only 1x0.8cm.
2. Quick & Easy to DIY. It's a better way to DIY at home than the classic Tape in Extension.
3. More Gentle for your natural hair. Not hurt and not easy to fall off.
4. More Density. For each strand of hair extension, the density will be more than 2 Tips tape in hair.
5. More Comfortable & Invisible & Flexible. Good Choice for adding hair volume near your hairline, sides, or bangs.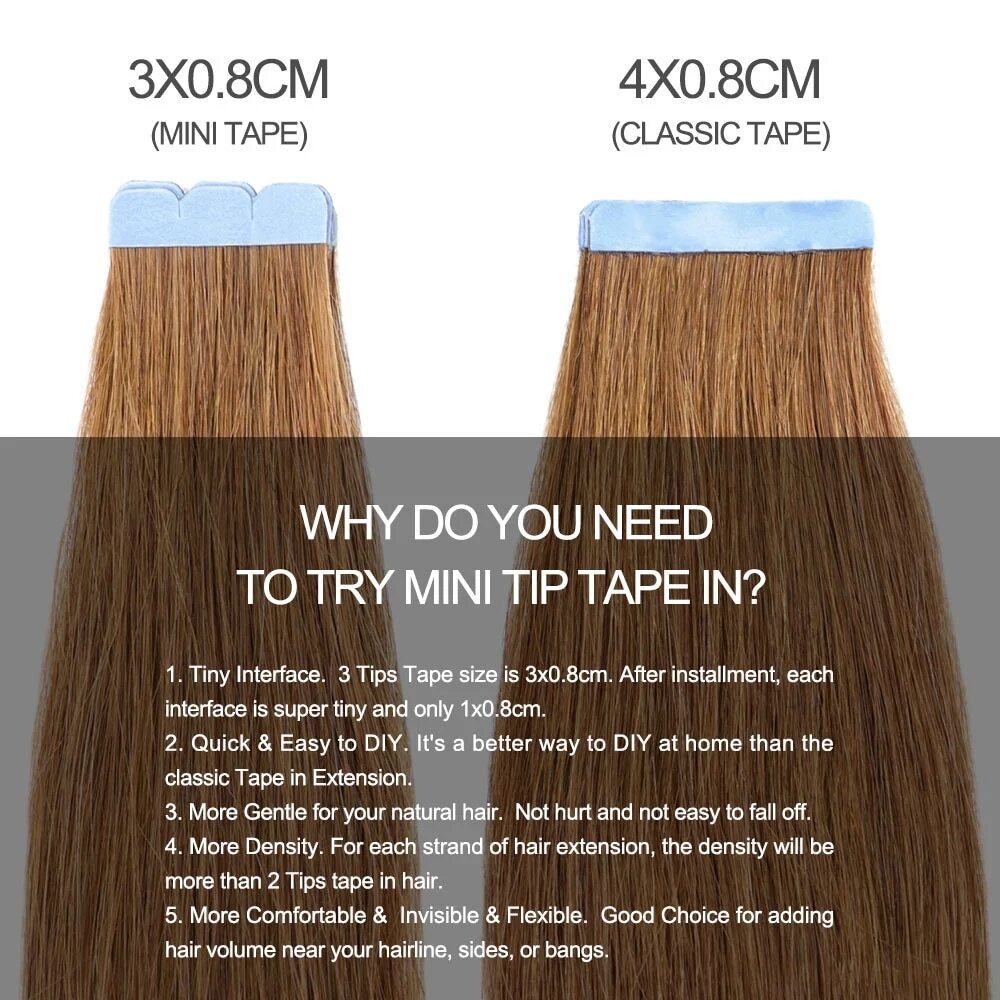 Length & Weight & Package:
12" = 30cm, 1.25g/pc, 10pcs per set 16" = 40cm, 1.50g/pc, 10pcs per set 20" = 50cm, 2.00g/pc, 10pcs per set 24" = 60cm, 2.50g/pc, 10pcs per set
Hair Quality
100% Real Human Hair Material, No Synthetic, No Animal Hair Original Human Hair, Soft, Smooth, Glossy, Silky Straight Can Be Curled, Straightened, Can Be Dyed To Darker Color
Application Suggestion:
For adding hair length & volume, Buy 60-80 pcs. For adding hair volume only, Buy 40-60 pcs. For highlight only, Buy 10-30 pcs.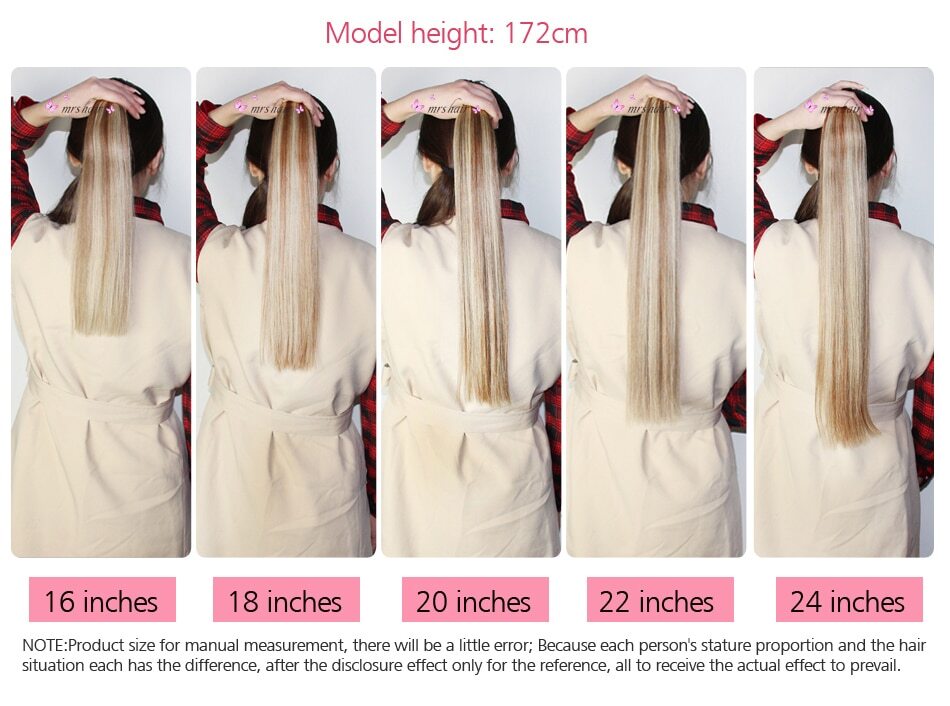 Stroage:
Large Stock Available, Support Shipping Within 24 Hours After Order Pass Audit (Except OEM orders, without weekend time)
Wholesale and Drop-Shipping Service:
* For Wholesale: we will offer discount or free express shipping which only take 5 - 9 days delivery.
* For Drop-Shipping: We could sent out the goods to your customers directly without recepit and Invoice if you would like to.
Refund Policy:
* 15 Days No Reason Refund ! Contact us first if any questions you have.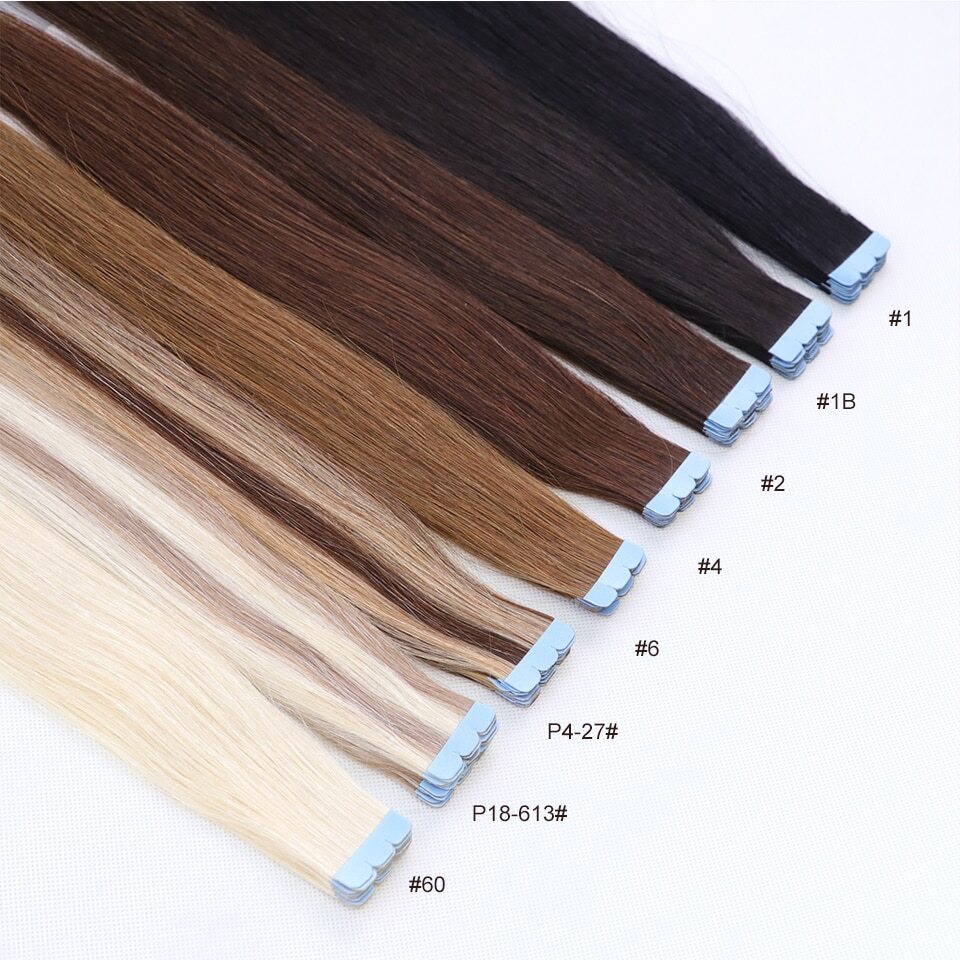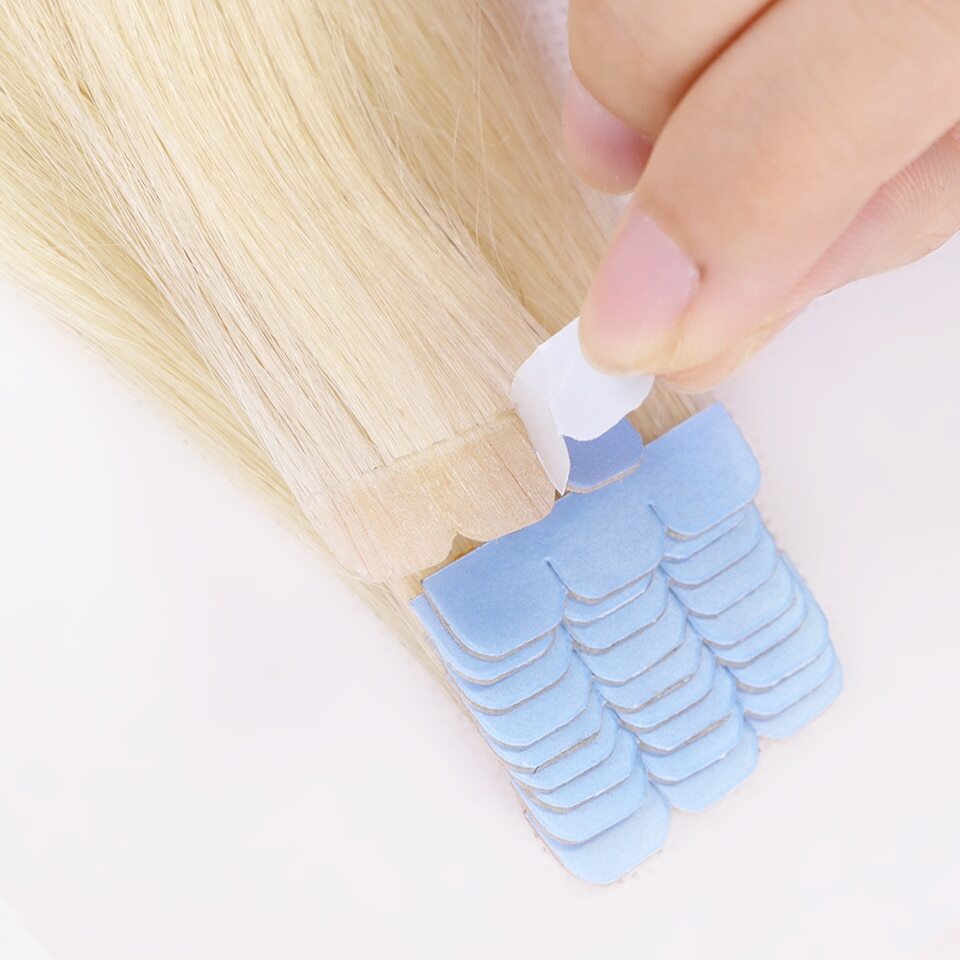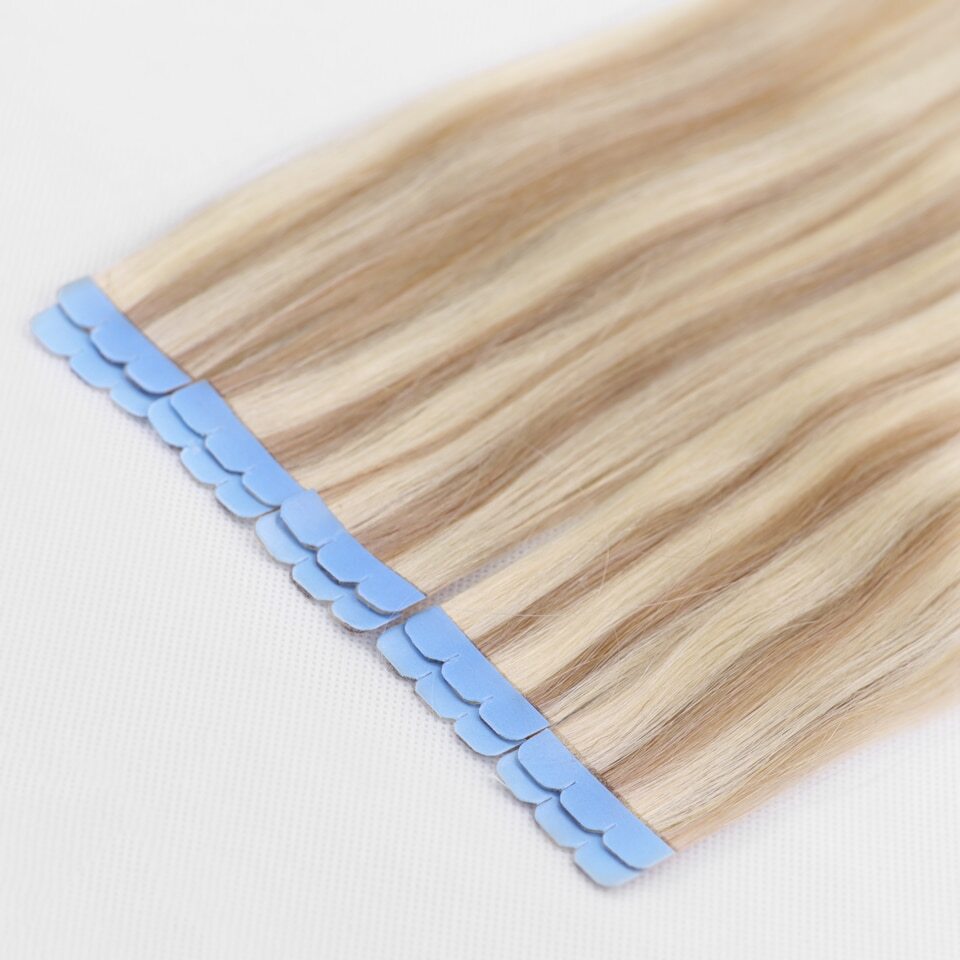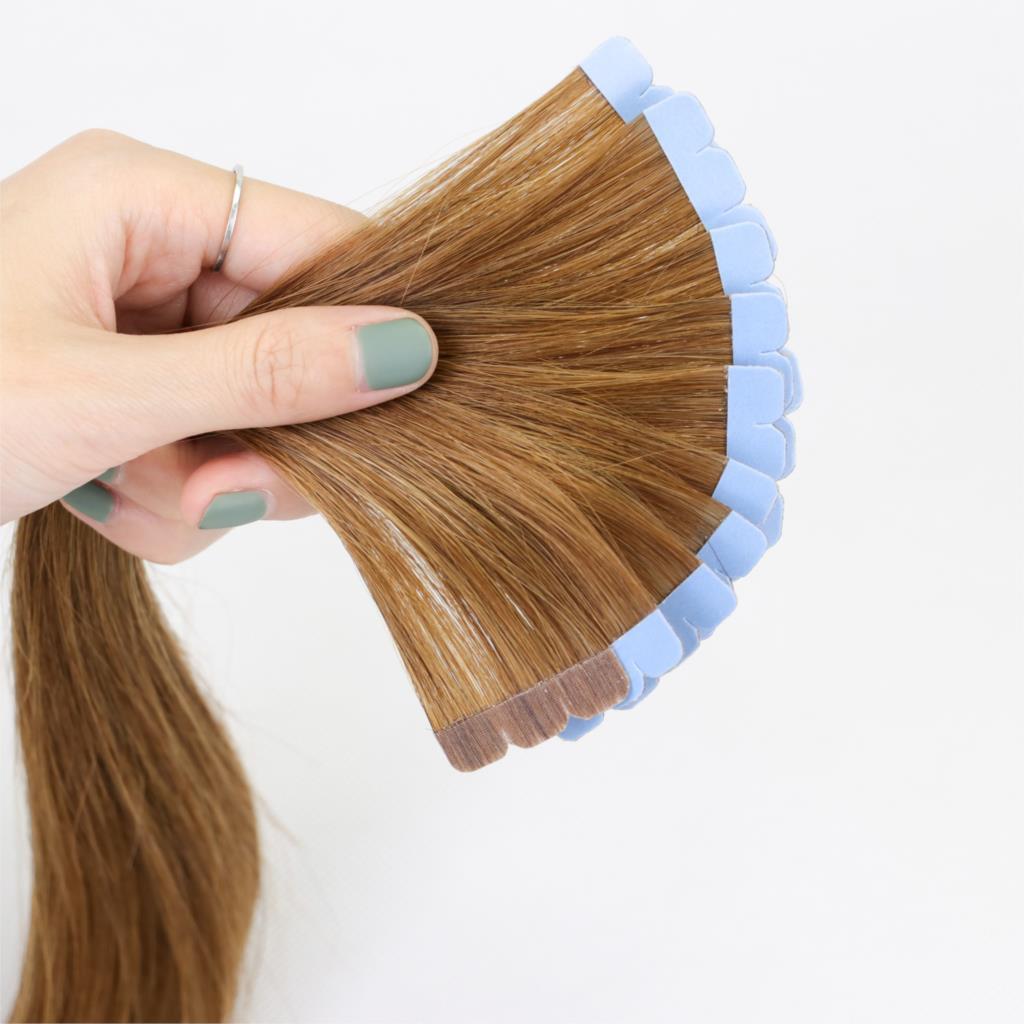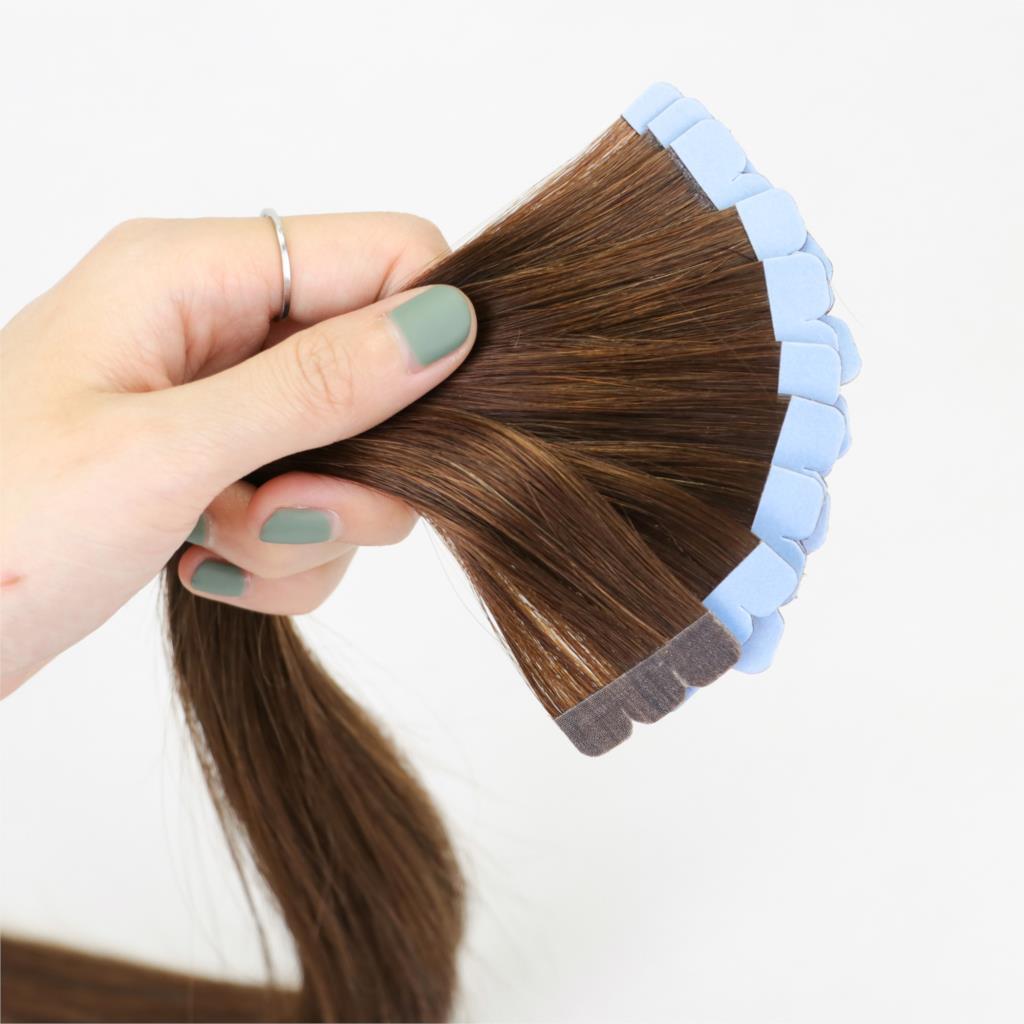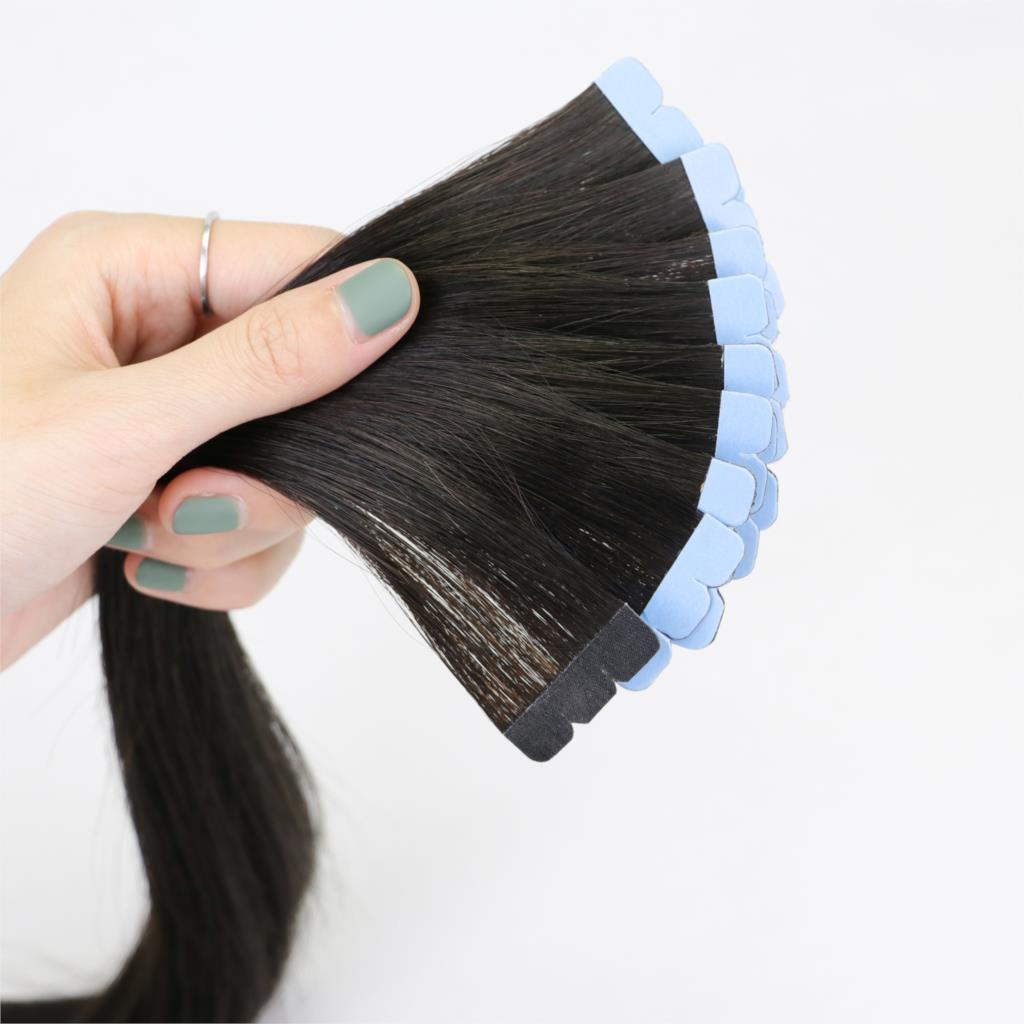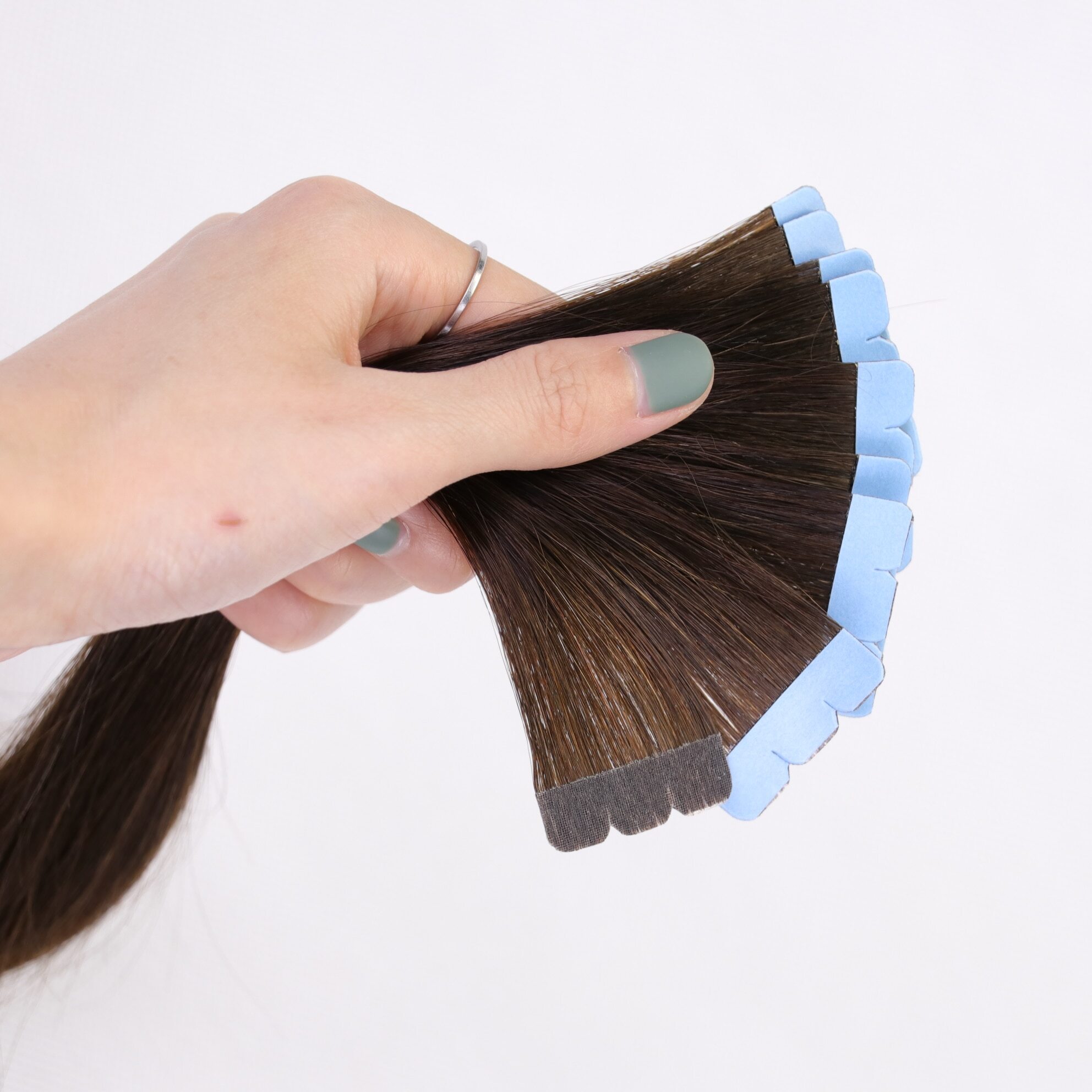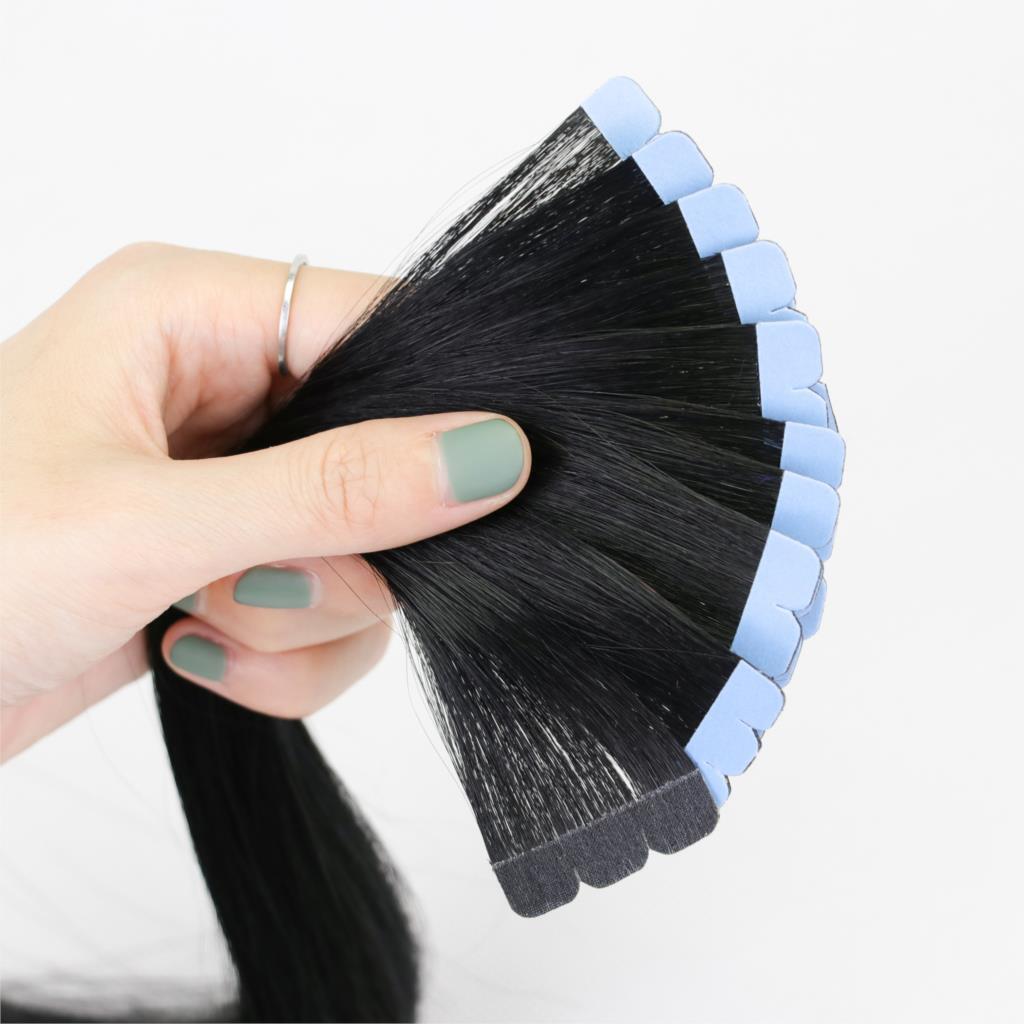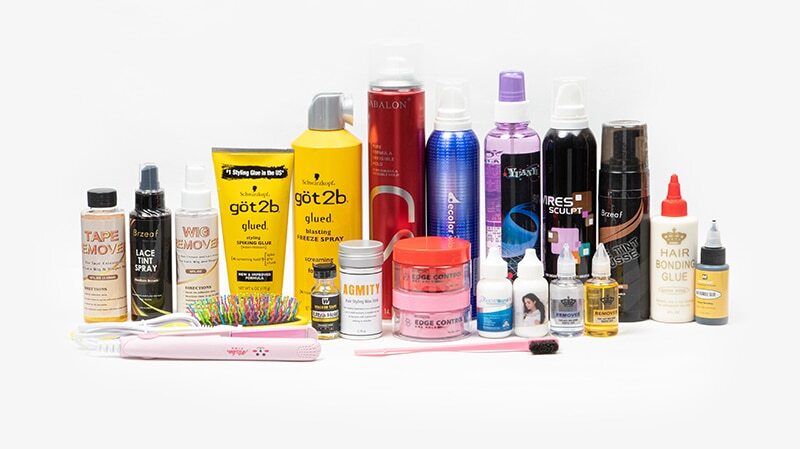 How to do HAIR CARE each day?
1.Wash the hair 1-2 times each week. (For the tape in hair, please don't wash hair in 48hours after 1st installment)
2. Warm Water washing, use a mild or Weak acid shampoo.
3.Avoiding let shampoos touch with the tape glue.
More Suggestions
Advise to brush your hair gently when you come out of the shower, follow the instructions given to you by your stylist. Do not use conditioner close to the bonds, use it mid-shaft down. Press the tape panels together on a daily basis, this will keep the attachment strong for a longer time. --Styling It is better to avoid heat. Heat is your one of your hair's biggest enemy, the more you use it, the shorter your hair extensions will last. Be careful with the use of blow dryers, flat irons and curling irons. Do not use hot tools directly on the tape tabs of your Tape In extensions. It will weaken the adhesive and they will fall out. It is best to let your hair dry naturally. Use a special brush for hair extensions when brushing your hair (soft bristle brush). It is best to start at the ends of your hair and when all tangles are removed gently work your way up. Always brush in a downward motion. Brush your hair a few times a day. --Hair styling products Use a good (leave-in) conditioner to keep your hair soft, but don't over do it. To much conditioner or any other hair care product can cause a build up and tangling. Avoid hair products that contain alcohol. Alcohol makes hair dry. Confirm with your stylist that all styling products (including shampoo and conditioner) that you use are OK. Hair Oils Be careful with hair oils such as Argan oil, Coconut oil and other essential oils. It can be wonderful for your hair but when it comes in touch with the bonds of for example Tape Ins it can deteriorate the attachment and the hair can slip out. Use hair oils only from the mid-shaft down. --Hair treatments When you would like to perm or color your hair, don't do it yourself. Let your extension stylist take care of all chemical treatments you would like to do. --Sleeping DO NOT sleep on wet hair. Make sure that your hair is completely dry when you go to sleep. A good habit is to tie your hair together in a ponytail to prevent tangling as much as possible. It is recommended NOT to sleep with Clip In hair extensions. It can damage your own hair. --Exersise Avoid long exposure to chlorine and salt water, chlorine and salt water can cause the hair to tangle and mat up. It is recommended to wear a swim cap if possible or wear your hair up to keep it out of the water. After swimming it is best to shampoo and condition your hair immediately. In general it is a good habit to wear your hair up or in a ponytail when you exercise. --Summer Care During summer your hair extensions can use some extra care. Sun, salty water and chlorine can really damage your hair make it tangle. It can also make the bonds and tape fragile. When you use skin and sun care products make sure not to come too close to the bonds or tape.
What CAN and CAN'T I do on the hair?
**********What you can do**********
1.use the olive oil or hair conditioner twice or three times each week. 2. Brush hair 2-4 times each day. 3. Making loose braids or ponytails before sleeping. 4. Apply heat protection product to the hair before heating hair with flat iron or roller.
**********What you cannot do**********
1.Can't wash hair within 2 days after application. 2.Cannot sleep with wet hair. 3.Can't brush it when hair is wet. 4.Cannot bleach it again. 5.Can't swim without a professional swim cap. 6.Can not use shampoos and conditioner which contains alcohol. 7.Can not blow the root of hairs too near with the hair drier. 8. Don't grasp the root of hair overexert when washing.
Aliexpress Standard Shipping
As usual, it needs 15-60 days. If your city is in a remote area, maybe it needs more days. After the package arrives in your country, Aliexpress standard shipping will give the packages to your local post office. So the estimated delivery time depends on the efficiency of your local post office, please be patient to wait or just call the postman for earlier delivery.

Fast Shipping Choice Available
We can also offer Fast shipping as another shipping choice, 4-7 Working Days Except for Holidays with a shipping fee. Even the shipping cost needs to be paid, but your package is safer and the estimated delivery time is exact. Now My company mainly cooperates with DHL and Armax company. If you need FedEx/UPS/TNT, Contact us before you make the payment.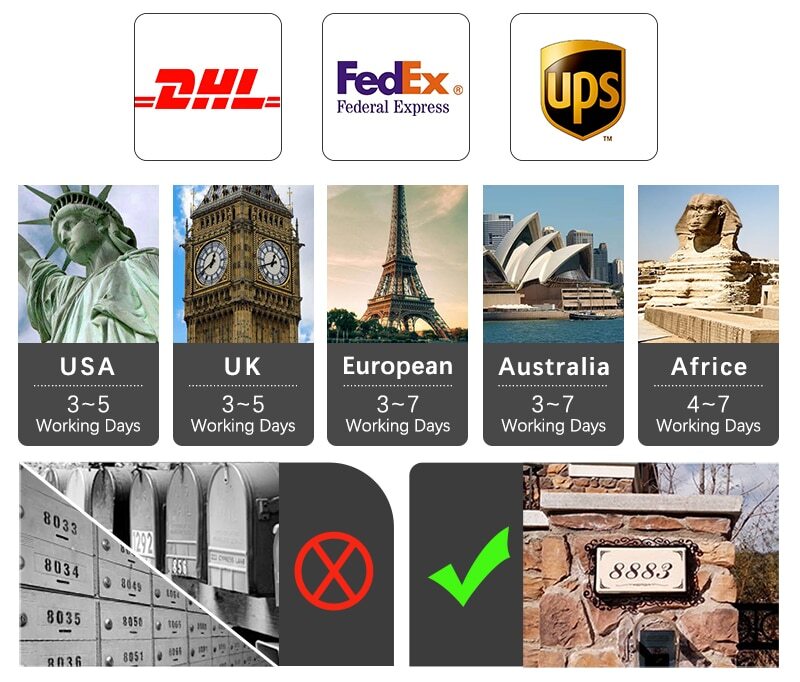 Please make sure your address is safe and valid
In order to ensure that your package can arrive safely, please make sure that there is no problem with your address before placing an order. The P.0.Box address is very easy to lose the package. If you put the address in the P.O.BOX, the package shows that it is signed, lost or stolen, then AliExpress will not give you a refund for the dispute. Please do not uninstall the app before receiving the goods, and check the latest status of the package in time to contact the post office or courier company in time.
Is this Human hair?
1. About hair material, it's 100% human hair. Exactly to say, it's not "natural hair". That's because all the light colors are bleached colors basis on the natural black Color hair. And the hair material is coming from Asian people's hair donors. So it's also the reason why this hair cannot be bleached again.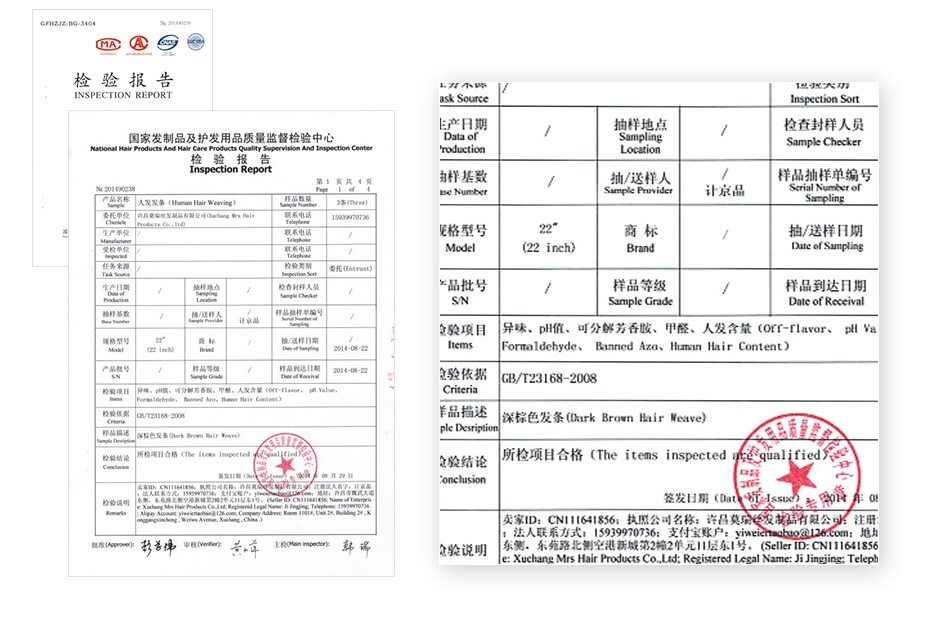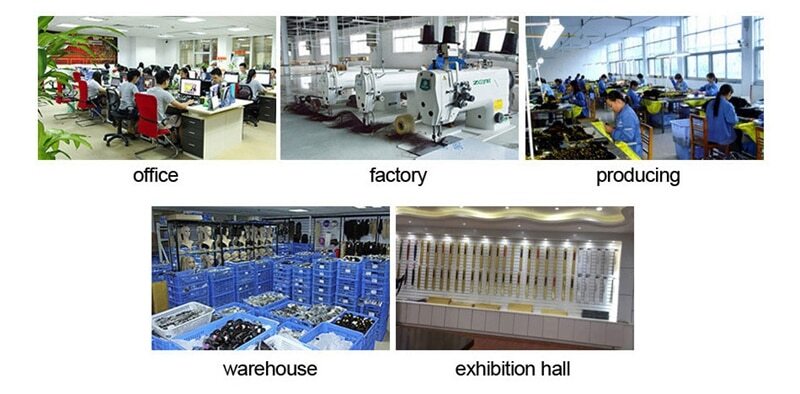 How to Identify Human Hair and Synthetic hair?
--Firstly, get ready for a lighter and a little strand of hair ( At least 10 hairs). --Then, burning the end of hair for 3 Seconds.

********Human Hair********
---Burns very quickly, and it smells like a burst fragranced.
---When the lighter is moved away, the fire will be extinguished immediately.
---After burning, it is easy to turn to be ashes.
********Synthetic Hair********
---Smells like burning plastic, very pungent, and there is black smoke when it is burning.
---When the lighter is moved away,The hair will continue to burn for several seconds.
---After burning, it turns some small lumps.
Why the real hair color looks different with description?
Monitor Reason: Because the colors on the Monitos of different mobile phones and computers are different, we will use the displays of Apple mobile phones and computers as the standard, and try to show the pictures of the products as true as possible. But even so, we cannot guarantee that the color of your hair after receipt will be exactly the same as when you purchased it.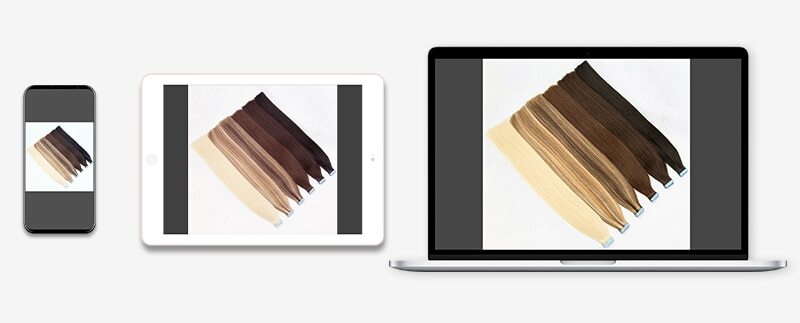 Why the hair color I ordered this time looks different with last same hair order?
It's normal. If you buy more than two hairs of the same size in one order, the hair you received may be the same color. But if you buy new hair with the same color after more than 3 months, or buy a different size of hair at one time, there may be a color difference. Because the factory will dye according to the standard color card we provide, but because of the hair products and dyeing batch, the factory can only guarantee that the color of the same length of hair dyed in a dyeing vat within a production time is exactly the same. In addition to this situation, there may be color differences for hair of different sizes. This is a normal production process, please understand. But please don't worry, the factory will ensure the color difference will not be obvious. If you are still worried about this issue, please let us show you the latest hair color before each purchase so that you can decide to pay or not.
Can I return goods if I don't like ?
Yes, You can return your hair back within 15 days after you get your hair.Please keep hair in its original states and contact us in time. We will send you the return shipping address. Except for the quality problem because the buyer for Return & Refund, the shipping cost needs to be paid buyer. We will extend the processing time for your order and after the package arrives, we will refund all your money.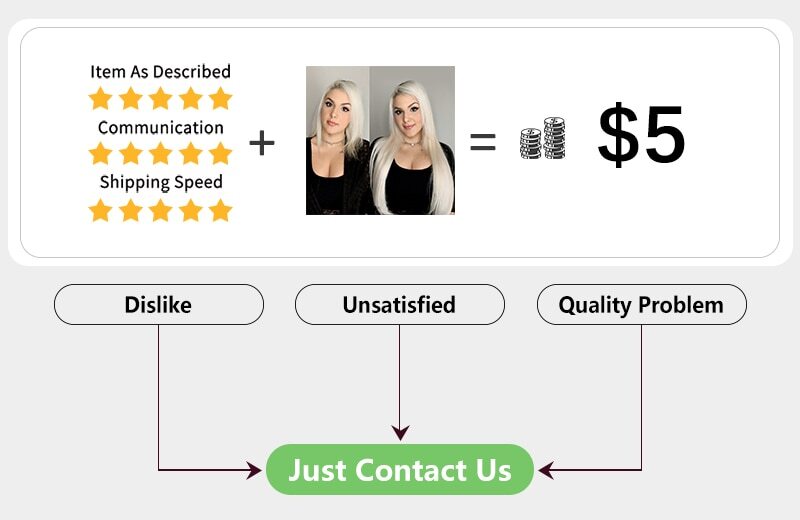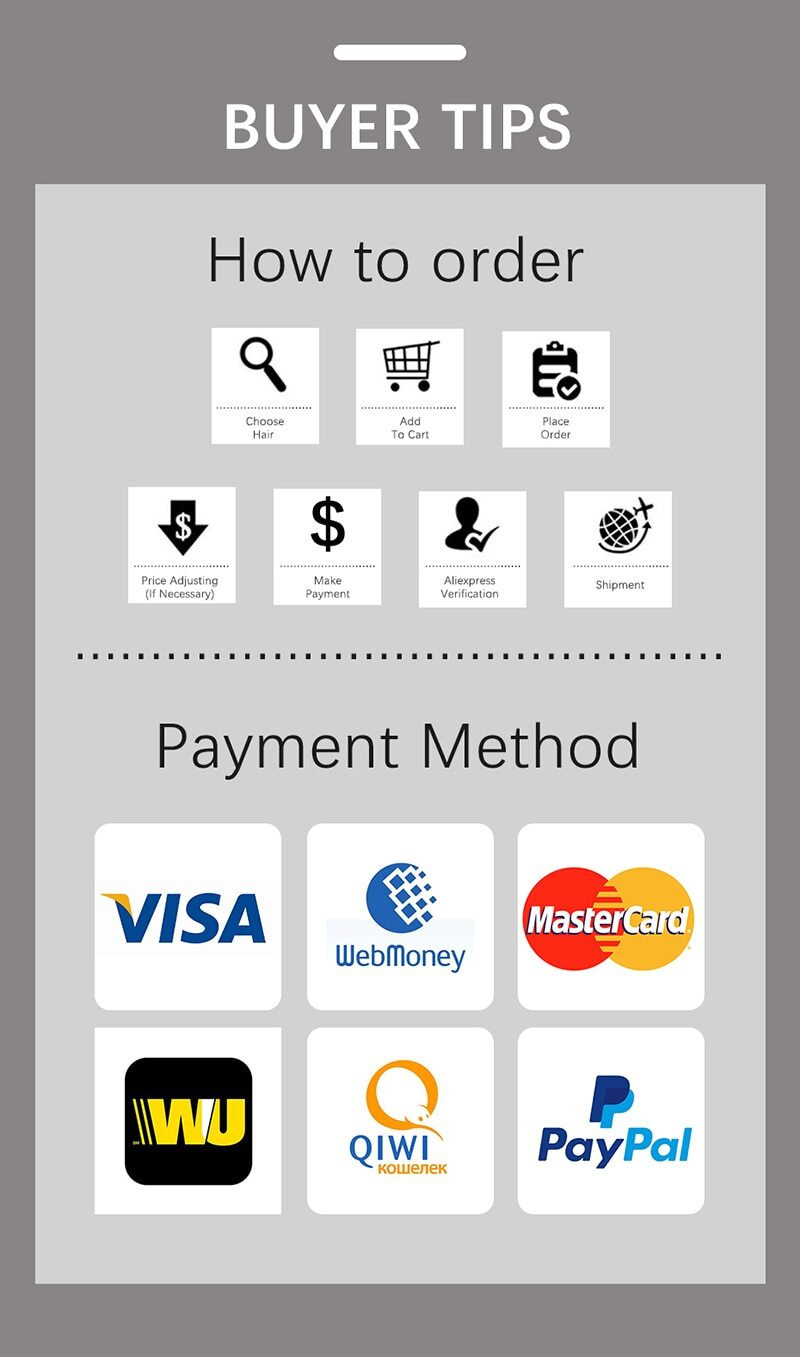 Customer Reviews ( 17 )
ByAniekThursday, 19 January 2023
ByJeamoTuesday, 03 January 2023
High quality soft hair, not damaged, seller gift me ponytail
ByMarieThursday, 08 December 2022
It makes my front hair very hierarchical, very good
ByRosiaFriday, 11 November 2022
The color is the same as the image, the wear effect is very good. It's beautiful and soft, and it blends well with my hair
ByLilyMonday, 17 October 2022
Beautiful hair , I got the hair right on time . I was literally sitting in my car and a lady complimented me on how beautiful my hair was
ByCesarMonday, 29 August 2022
ByNasiaFriday, 24 June 2022
Very fast shipping! 15.06 I made an order and already today 24.06 received it. Wonderful quality, as always! Thank you very much for your good work. If possible, I will make a photo report and share the result. The best of all online stores. More than once I ordered hair here and was always happy. I advise it with 100% confidence that you will not regret it. :)
ByNicholeMonday, 06 June 2022
The horses there are really natural I not yet used I'll be very funny if it will be suitable my hair
ByMariaFriday, 13 May 2022
I really like the hair, it is soft and shiny and looks great. Thank You,
ByReginaWednesday, 16 February 2022
Soft hair and thicker than expected! Color matches perfectly.
ByKelmaMonday, 28 June 2021
Hair was soft silky and wonderful came in pretty package.They responded really quick and well shipping was 5 days after I placed order...Very straight silky ends straight true to length...Will purchase again.
ByJeffreySaturday, 19 June 2021
The hair is so amazing,it's so soft and doesn't shade at all. the seller was so nice and he/she was updating me everytime .Wow,I can't tell that this hair is everything,my hairstylist compliments was so nice talking about the hair
ByAnaTuesday, 15 June 2021
The bundles are soft, the hair is also very thick and it does not have an unpleasant smell. Customer service was great too! Great product nice quality would buy again
ByAnneFriday, 11 June 2021
The hair was delivered in excellent time, it was fast. I haven't installed the hair yet but it doesn't smell, it's true to length and their thick.
ByJanetThursday, 20 May 2021
The hair is so amazing,it's so soft and doesn't shade at all. the seller was so nice and he/she was updating me everytime .Wow,I can't tell that this hair is everything,my hairstylist compliments was so nice talking about the hair
ByNitaWednesday, 05 May 2021
Thank you for the fast shipping, the hair is great, I used this hair to make a wig and it was very nice. Hair was soft and was easy to install, i recommend buying.